Who's your favourite?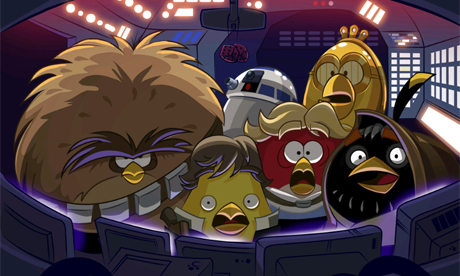 Its hard for one to properly appreciate the mass appeal of both Angry Birds and Star Wars, to combine two huge brands like this is really interesting and when the 'Exient Imagineers Team' were tasked with bringing Rovios' game to consoles they had a chance to really soak up the characters and iconic factions from the epic story.
We asked our team who their most favourite character is in Angry Birds Star Wars.
Simon Antony who looked after the engineering of new features Play Go and Remote Play and ensuring PS4 was as beautiful as could be says, "The pigs (Empire) – they take such joy in their work and are so inventive with their constructions, as for the characters, well it has to be Obi Wan, flinging blocks around levels is always such fun."
Thomas Bartsoek said his favourite was Luke, "because he pulls  really funny expressions when he hits something" and Thomas prefers the good guys to the baddies (always).
Girish Mekwan who Lead the Artwork on the re-imagined games said his favourite was Chewie, "he's just a big cuddle!"
Why not tells us who your favourite characters are in the epic retelling of rebel bird and imperial 'pork-side'?